Walking around the city centre
Please take your time at least half a day to walk around the beautiful, poetic but also very bustling town. You should visit Sapa Museum, Sapa Market, Sapa Stone Church, Cat Cat Village, Ham Rong mountain by the day time.
At the night you can go to exploring Sapa night market or love market (saturday night only) or enjoy BBC along streets…
Shopping
There are alot of items you can buy in the market or any villages in Sapa, from bracelets, anklets and headbands to scarves, jewelry, handbags, shoes and carpets – each with embroidery intricately sown with love and care.
The colors and patterns on the items represent the different tribes of people, and it is interesting to figure out which is which.
Don't be afraid to let your curiosity get the best of you. Not only do these items make for great souvenirs for yourself, but your loved ones at home will adore them too.
Sapa Market is full of stalls with colorful displays, and we are sure you will not come out empty handed.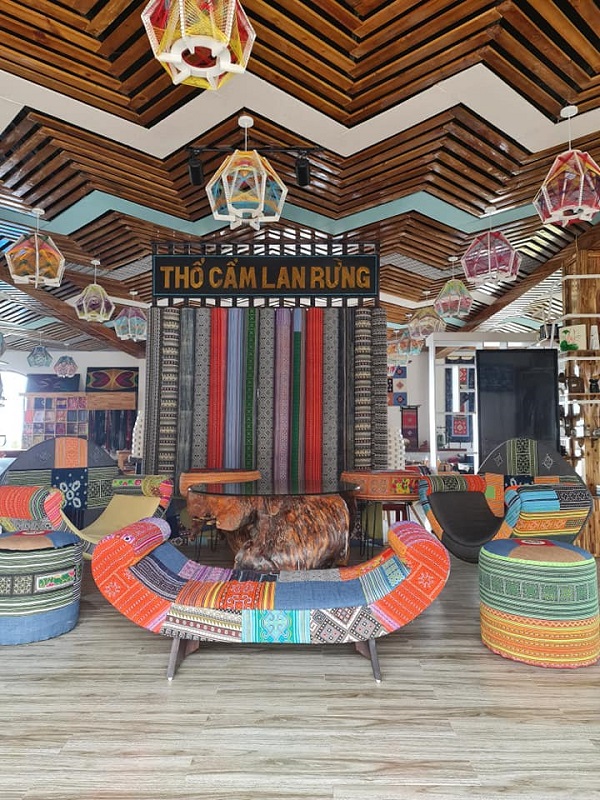 Shopping in Sapa
Traveling by bike or bicycle to the villages
While tours to every popular location are available, it is almost always better to do it by yourself at your own pace. Renting a bike for the day will allow you to do just that.
A favorite route among travelers to drive through is Ton Pass that leads to Heaven's Gate, Silver waterfall, Love waterfall.
If the dangerously serpentine roads don't make you hold your breath, the stunning views on both sides of valleys and mountains will surely do.
If you have never ridden a bike before, this is not the place to learn. Hop on the back of the bike of an experienced rider and let them take you around.
Make sure to stop frequently so you can get as many photos as possible! The town is also a great place to explore on a motorcycle, by the way.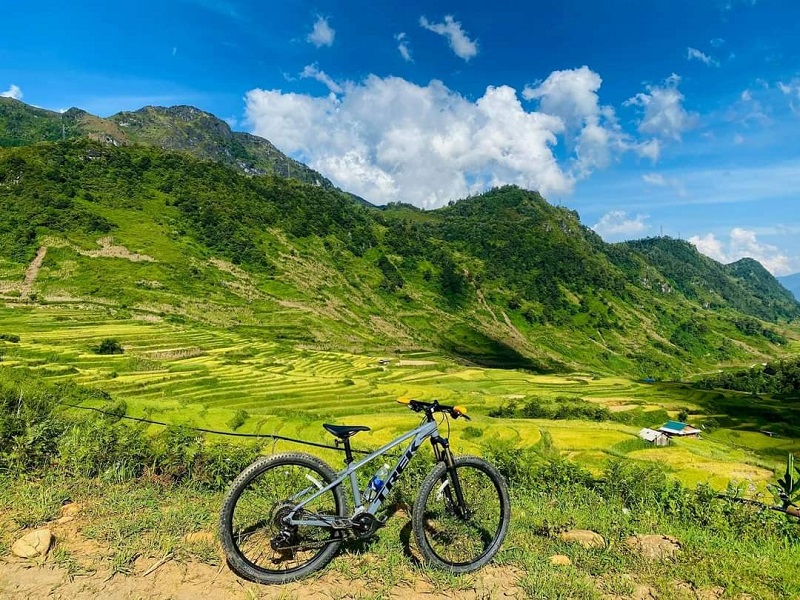 Cycling to beautiful villages
Conquering Fansipan peak!
Fansipan Mt, the highest peak in Indochina, at an elevation of 3,143 m above sea level, this is a beast to conquer and is definitely worth your time and effort.
Do not attempt to do this by yourself, there are many tour agencies in Sapa offering various types of guided tours up the mountain, and you can choose one that appeals to you.
The best span over two days and offer all-inclusive packages, so you do not have to go through the hassle of finding homestays yourself.
Once you reach the summit, you will be rewarded with beautiful views over the city and the terraced rice fields below. If it is cloudy though, your view might be obstructed.
Conquering Fansipan peak
Trekking to the villages by trails with a local guide
Just like everything else on this list, this is an absolute must when in Sapa. You can only truly appreciate the beauty of Muong Hoa valley if you take your time to trek it and spend a night or two at a local village's homestay.
You can book trekking tours online or coming to Sapa Tourist Information and Promotion Center (02-Fansipan St).
Sometimes women from the regional ethnic minority tribes may even approach you while in town (the bus station is a popular place for this) and offer a trek and homestay.
Don't be afraid to say No. Because of the Code of conducts for tourists in Sapa.
Nice trails through the bamboo forest
Enjoy local specialties
Leave your cravings for burgers and pizza behind and indulge yourself on some of the delicious regional cuisine.
Thang co, a favorite dish among Mong tribe is hotpot made of horse meat, internal organs and bones. Salmon hotpot, black chicken, and bamboo sticky rice are also worth trying.
You can find these dishes and many more in all of restaurants in Sapa.
BBQ, the specialties street food in Sapa
Visit Sapa Love Market
This is a unique experience in Sapa, and only happens on Saturday nights. The Sapa love market is where young ethnic tribes people would come to meet one another, fall in love, and get married.
Because villages in Sapa are sparsely populated, those living in far-away villages would make the journey days ahead so they can arrive in time to find someone.
You will see boys and girls hanging out, laughing, drinking, eating, doing traditional dances and playing traditional games together. It's a different world to what we are used to.
At the end of the day they part ways but promise to meet again, probably in a week, when the market comes to life again.
Thanh Tuan