Take a walk around Sa Pa in the late afternoon, contamplate the spectacular scenery of the Northwestern mountains.
Enjoy the most beautiful moments of the day under the sunset in a certain location, it will be a truly unforgettable memory in the minds of visitors. Let's explore the four most beautiful places to see the sunset in Sapa:
1. Fansipan – Roof of Indochina
Standing on the top of Fansipan Mountain, listening to the temple's bell ringing from afar, watching the strips of red clouds, then gradually reclining towards to the end of the horizon.
You should come here in the late afternoon from 4-5 pm, when Fansipan peak is not too crowded. Then you will feel the immense landscape of heaven and earth, enjoy and contemplate life in quiet moments.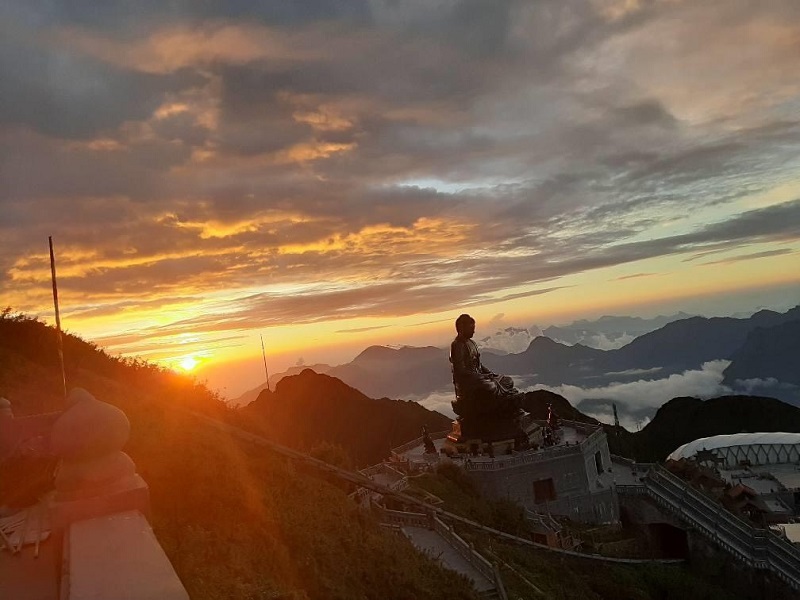 Amazing sunset from Fansipan peak
2. Ham Rong tourist area
Located right in the center of Sapa town, you only need 30 minutes to walk there. Ham Rong Mountain was honored by Huffington Magazine as one of the 8 most beautiful sunset spots in the world.
Standing on the top of Ham Rong Mountain, you can enjoy the panoramic view of the vibrant Sapa town and Muong Hoa valley hidden under the clouds. In the sunset, the whole scene of Sapa town is like a beautiful picture of nature, making visitors want to enjoy forever, do not want to go home.
3. O Quy Ho pass
Located on 4D national road, on the way to Lai Chau province. 18km far from Sa Pa town is the top of O Quy Ho Pass – One of the four great peaks of the mountain pass in Northern of Vietnam.
This is the most beautiful place to see the sunset in Sapa. You should come here at around 6 pm to enjoy the sunset.
A beautiful scene with full of emotions, and life seems to settle under this setting. Even when the weather not so good, there are sea of clouds under your feet creating a very magical scenery.
Sunset on O Quy Ho pass
4. Sapa lake
This is the most convenient place but you can still enjoy the beautiful sunset in Sapa. Just take a walk around the lake, watching the end of the day sunshine through the buildings of tourism town.
Sunset light through peach and willow leaf, drawing on the surface of Mat Ngoc Lake a red painting representing the spirit and intense vitality of the tourism land here.
Do not go, do not know, then see, then feel the beauty and interesting things of Sapa tourism land.
The feeling of seeing life and scenery under the sunset of Sapa on Fansipan peak, Ham Rong mountain, O Quy Ho mountain pass, Mat Ngoc lake is a wonderful moment that has been felt and recorded by many visitors, in the memory, in the frame.
Thanh Tuan
Sapa TIPC – TIPC Lao Cai