Sapa is an attractive tourist area, discovered by the French in 1903, up to now, it has been 120 years. Sapa is still an indispensable destination in the journey to discover Vietnam for most international tourists.
In particular, on each traditional Lunar New Year occasion, this land becomes more beautiful with orchids, peach blossoms, apricot flowers, with fun traditional festivals imbued with traditional cultural values.
The beauty of peach blossoms in Sapa
Traveling in Sapa on this occasion, maybe foreign tourists will be a little surprised about the crowdedness of Vietnamese tourists in the center of Sapa town. So they will choose to visit and stay overnight in tourist villages such as: Ta Van, Ta Phin, Giang Ta Chai…But it is probably also the right choice to bring visitors many unexpected experiences and interesting.
Trekking through the rice terrace to the villages
Coming to the villages on Tet holiday, visitors will feel the joyful atmosphere on the faces of the elderly to children. Everyone is eager to participate in activities to prepare for Tet such as cleaning the house, decorating the altar, slaughtering pigs, wrapping banh chung or preparing new clothes…
When traveling to the villages on this occasion, the local guides will introduce to visitors the traditional beauties, traditional rituals and customs that are still preserved and passed down from generation to generation.
Red Dao ethnic with Cap Sac festival
You will be invited to attend a hearty meal with many dishes with bold Northwest flavor such as: Smoked pork stir-fried with cabbage, sausage, black rice cake, colored sticky rice… And in the tray of the party, visitors will enjoy a cup of fragrant wine with wishes of health and success from the owner.
Funny folk games during the traditional festival
Traveling to Sapa on the occasion of the Lunar New Year, visitors also have the opportunity to visit many traditional festivals of ethnic minorities in Sa Pa such as: Xuong Dong festival of Giay people, the Put Tong festival of the Dao people, Gau Tao festival of the Hmong…
The traditional festival gathers most of the people in the villages to attend. They put on the best clothes, go to the party with the most cheerful and comfortable mentality. After the ceremony, worship performed by shamans and village elders in the area will be the festival. With many dynamic and attractive folk games attracting both locals and tourists such as blindfolded catching goats, pushing sticks, climbing fat poles, walking on monkey bridge…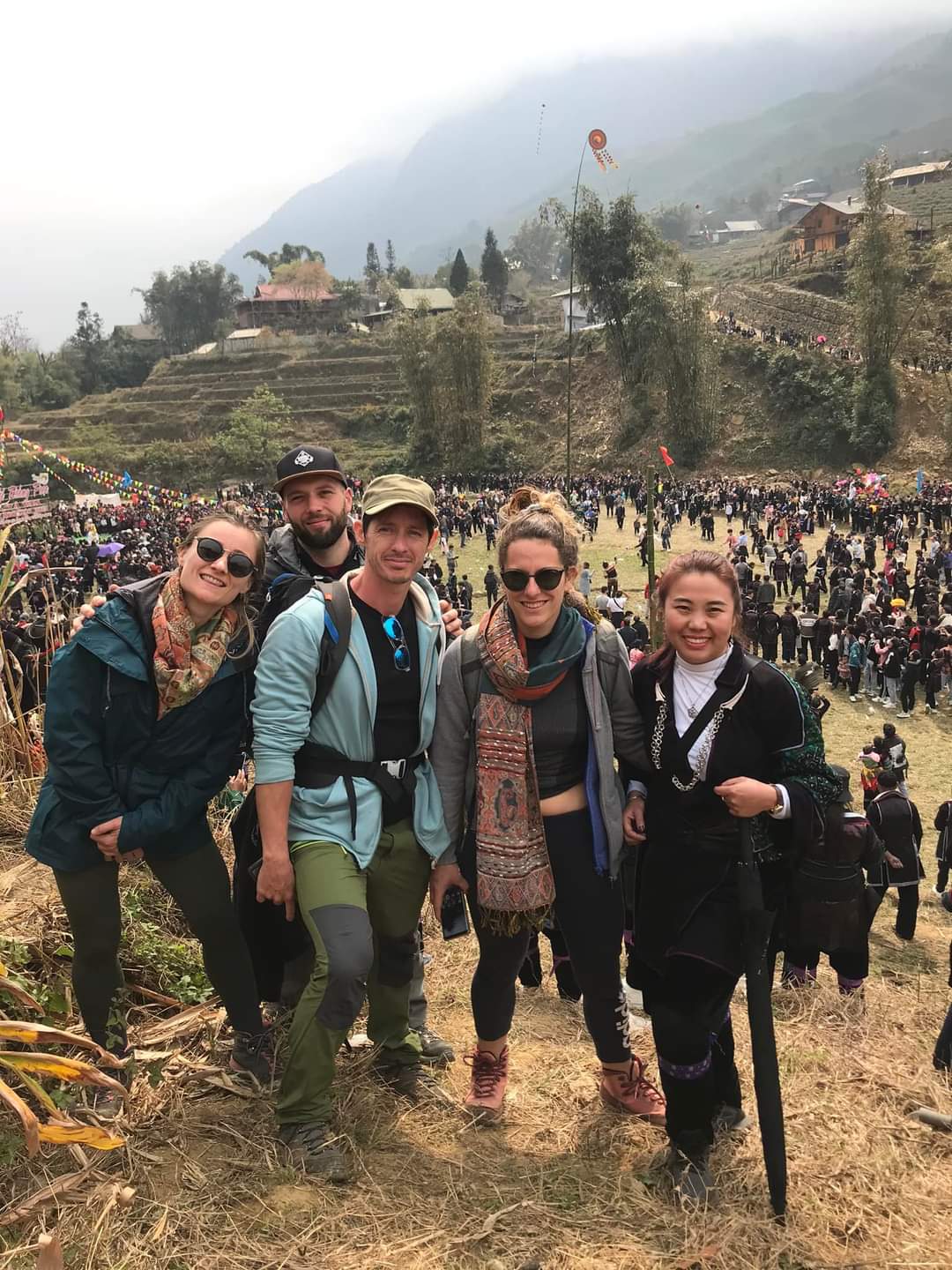 Tourists enjoying the Tet in the villages
With so many fascinating experiences and activities, surely traveling to Sapa during Tet will bring foreign tourists unforgettable experiences and beautiful impressions of the tourist land of Sapa.
Thanh Tuan