their travel diary.
Around Sa Pa town, there are many accommodation facilities from popular to 5-star international standard to serve the needs of tourists. Through this article, we would like to introduce to you top 05 resorts in Sapa for you to choose.
Topas Ecolodge
Relaxing with nice swimming pool
Located about 18km from the center of Sa Pa town (45 minutes by car), standing out in the middle of the hill is a row of bungalows with open views. This is a place worth experiencing, with a beautiful geographical location, located far from the center, where you can enjoy the freshness of nature and explore the landscape and indigenous culture. Topas Ecolodge offers different experiences that not all visitors like such as no wifi, no television.
Contact Info:
Topas ecolodge: Lech Dao hamlet, Thanh Binh commune, Sa Pa, Lao Cai
Phone: 02437151005; Email: info@topasecolodge.com
Jade Hill
Sa Pa Jade Hill is the first mountain resort real estate complex in Vietnam, including subdivisions such as: resort villas, commercial townhouses, 4-5 star hotels, service areas, spiritual areas , markets, clubs… The architectural works are uniquely designed, beautiful, friendly with nature, hidden under the sa mu trees, blending in the mist.
Contact Info:
Sa Pa Jade Hill: Ly Hamlet, Lao Chai Commune, Sa Pa, Lao Cai
Phone: 096 118 2266; Email: info@sapaland.com
Cat Cat Hill Resort
Nice room with open view to the Hoang Lien Son range
Sapa Cat Cat Hills Resort & Spa is a 4-star resort villa with more than 100 luxury rooms. Located in a beautiful location 1km from the center of Sapa, with a view overlooking the entire majestic of Hoang Lien Son mountain range and romantic view down to Cat Cat village. Sapa Cat Cat Hills Resort & Spa is like a small village, each apartment is designed separately from 3-5m apart, giving you the authentic natural space experience in Sa Pa.
Contact Info:
Sapa Cat Cat Hill Resort & Spa: 086 Fansipan, Sa Pa, Lao Cai
Phone: 0889291661; Email: info@catcathillsresort.com
Silk Path Grand Sa Pa Resort & Spa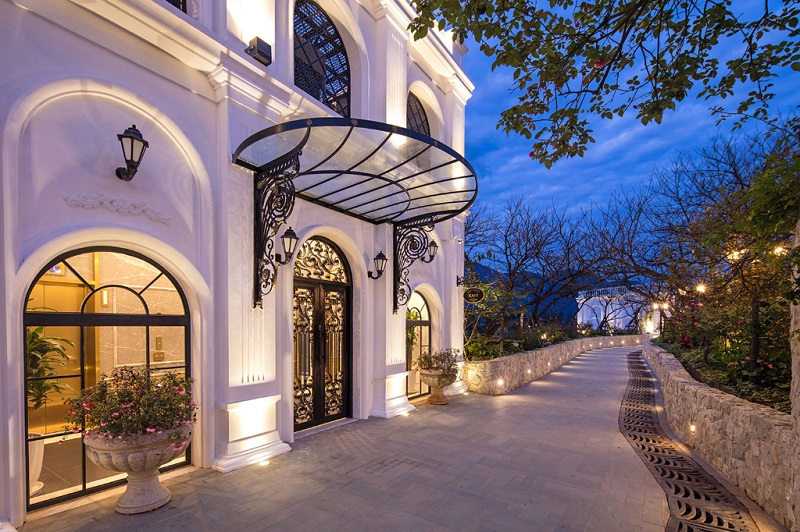 Quiet space at Silk Path Sa Pa
Located on a separate hill with a view embracing the Hoang Lien Son mountain range, Silk Path Grand Sapa Resort & Spa is like a miniature Europe in the heart of Sapa. The rooms have a subtle mix of European style and touches of local culture. The resort also has the most modern entertainment services system in Sapa such as swimming pool, gym, bar, karaoke.
Contact Info:
Silk Path Grand Sa Pa Resort & Spa: Doi Quan 6, Sa Pa Ward, Sa Pa, Lao Cai
Phone: 09485555555; Email: reservation@silkpathhotel.com
Victoria Sapa Resort
As the first international standard 4-star hotel in Sa Pa, with a location right in the center of town with beautiful and quiet view. Victoria Sapa Resort has been as the choice of tourists when they want to enjoy a vacation with luxurious space, full facilities and services such as transportation, sightseeing tours, tennis courts, sauna, etc. spa, outdoor event area, children's play area…
Contact Info:
Victoria Sapa Resort: Xuan Vien Street, Sa Pa Ward, Sa Pa Town, Lao Cai Province
Phone: 02143 871 522; Email: reservation@victoriahotels.asia
Thanh Tuan